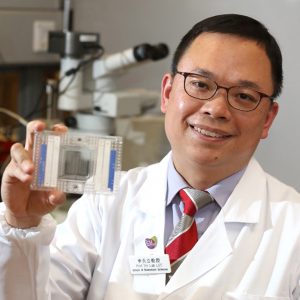 Associate Professor at the School of Biomedical Sciences 
Office: (852) 3943 4436
Email: leetl@cuhk.edu.hk
Address: Room 622A, 6/F, Lo Kwee-Seong Integrated Biomedical Science Building, Area 39, CUHK
SBS Website: https://www2.sbs.cuhk.edu.hk/en-gb/people/academic-staff/prof-lee-tin-lap
Research Profile
Prof. LEE Tin Lap (李天立) is an Associate Professor in the School of Biomedical Sciences, Faculty of Medicine at The Chinese University of Hong Kong. He has previously conducted research at National Institutes of Health (NIH) in the United States and was a Staff Scientist at the Laboratory of Clinical Genomics, National Institutes of Child Health and Human Development (NICHD) and Project Coordinator at National Center for Biotechnology Information (NCBI). His research interests include germ cell and stem cell biology, and biomedical informatics. He identified various non-coding RNA and epigenetic regulations that contribute to normal or disease states in germ cell and stem cell development. He also developed algorithms and databases to facilitate genomic data mining, including GermSAGE, GonadSAGE. TileMapper and the GermlncRNA. His works have been recognized NIH Merit Award, The NIH Fellows Award for Research Excellence and young scholar awards from American Association for Cancer Research and American Nanomedicine Society.
Research Interests
Genomic regulations of non-coding RNAs in stem cell development

Germline stem cell biology

Nanotoxicology and nanomedicine

System biology modeling and algorithm development
Selected Publications
Zhao LH, Liu X, Yan HX, Li WY, Zeng X, Yang Y, Zhao J, Liu SP, Zhuang XH, Lin C, Qin CJ, Zhao Y, Pan ZY, Huang G, Liu H, Zhang J, Wang RY, Wen W, Lv GS, Zhang HL, Wu H, Huang S, Wang MD, Tang L, Cao HZ, Wang L, Lee TL, Jiang H, Tan YX, Yuan SX, Hou GJ, Tao QF, Xu QG, Zhang XQ, Wu MC, Xu X, Wang J, Yang HM, Zhou WP, Wang HY. "Genomic and oncogenic preference of HBV integration in hepatocellular carcinoma." Nat Commun, 2016; 7:12992.
Tsang DPF, Wu WKK, Kang W, Lee YY, Wu F, Yu Z, Xiong L, Chan AW, Tong JH, Yang W, Li MSM, Lau SS, Li X, Lee SD, Yang Y, Lai PBS, Yu DY, Xu G, Lo KW, Chan MTV, Wang H, Lee TL, Yu J, Wong N, Yip KY, To KF, Cheng ASL. "Yin Yang 1-mediated epigenetic silencing of tumour-suppressive microRNAs activates nuclear factor-B in hepatocellular carcinoma." Journal of Pathology, 2016; 238(5):651-664.
Cheung HH, Yang Y, Lee TL, Rennert O, Chan WY. "Hypermethylation of genes in testicular embryonal carcinomas." British Journal of Cancer, 2016; 114(2):230-236.
Tu JJ, Ng SH, Luk ACS, Liao JY, Jiang XH, Feng B, Mak KKL, Rennert OM, Chan WY, Lee TL. "MicroRNA-29b/Tet1 regulatory axis epigenetically modulates mesendoderm differentiation in mouse embryonic stem cells." Nucleic Acids Research, 2015; 43(16):7805-7822.
Luk ACS, Gao H, Xiao S, Liao JY, Wang D, Tu JJ, Rennert OM, Chan WY, Lee TL. "GermlncRNA: a unique catalogue of long non-coding RNAs and associated regulations in male germ cell development." Database (Oxford), 2015; bav044.
Qian Y, Tu JJ, Tang NLS, Kong G, Chung JP, Chan WY, Lee TL. "MicroRNAs mediated targeting on the Yin-yang dynamics of DNA methylation in disease and development." International Journal of Biochemistry & Cell Biology, 2015; 67:121-127.
Chen X, Gu S, Chen BF, Shen WL, Yin Z, Xu GW, Hu JJ, Zhu T, Li G, Wan C, Ouyang HW, Lee TL*, Chan WY. "Nanoparticle delivery of stable miR-199a-5p agomir improves the osteogenesis of human mesenchymal stem cells via the HIF1a pathway." Biomaterials, 2015; 53:239-250. (*co-corresponding author)
Luk ACS, Chan WY, Rennert OM, Lee TL. "Long noncoding RNAs in spermatogenesis: insights from recent high-throughput transcriptome studies." Reproduction, 2014147(5), R131-R141.
Li P, Goecks J, Lee TL. "Turning pipe dreams into reality." Genome Biology, 2012; 13(8).
Lee TL, Raitano JM, Rennert OM, Chan SW, Chan WY. "Accessing the genomic effects of naked nanoceria in murine neuronal cells." Nanomedicine-Nanotechnology Biology and Medicine, 2012; 8(5):599-608.