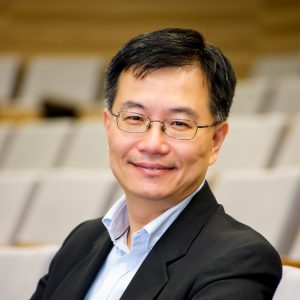 Professor at the School of Biomedical Sciences 
Office: (852) 3943 6895
Email: wy-chan@cuhk.edu.hk
Address: Room 621A, 6/F, Lo Kwee-Seong Integrated Biomedical Sciences Building, School of Biomedical Sciences, CUHK
SBS Website: https://www2.sbs.cuhk.edu.hk/en-gb/people/academic-staff/prof-chan-wood-yee

Biography
Prof. CHAN Wood Yee Woody (陳活彝) obtained his Bachelor and Master degrees in Biochemistry in the Department of Biochemistry and Ph.D. in Basic Medical Sciences in the Department of Anatomy of The Chinese University of Hong Kong.  He went on to have his postdoctoral training in University College London, UK after he received a fellowship from the Croucher Foundation.  He then returned to The Chinese University of Hong Kong, and joined the Department of Anatomy as a lecturer.  He received his sabbatical training in the Brigham and Women's Hospital, Harvard Medical School, USA for three consecutive summers.  He became Professor in the Department of Anatomy in 2000, and Chairman of the same Department in 2007.  He is currently Associate Director of School of Biomedical Sciences, Head of Division of Biomedical Sciences and also Associate Head of Shaw College.  Prof. Chan is interested in developmental and stem cell biology.  His research mainly focuses on the early development of the central and enteric nervous systems and their relationships in both mouse embryos and human fetuses shortly after implantation to the uterus.  More recently, he is more interested in the migration and differentiation of neural crest stem cells in post-implantation mouse embryos, the pre- and post-natal development of the rodent enteric nervous system, stem cell therapy for congenital and acquired enteric neuropathies including congenital intestinal motility disorders such as Hirschsprung's disease and irritable bowel syndrome, and also teratogenic effects of bioactive compounds.
Research Interests
Formation, migration and differentiation of neural crest cells and neural crest stem cells

Development of the nervous systems in experimental animals and human fetuses

Genetic and epigenetic controls of cellular migration, proliferation and differentiation in embryos and cancers

Early organogenesis in post-implantation embryos

Embryotoxicity and teratogenicity of various bioactive compounds
Selected Publications
Burns A J, Goldstein AM, Newgreen DF, Stamp L, Schafer KH, Metzger M, Hotta R, Young HM, Andrews PW, Thapar N, Belkind-Gerson J, Bondurand N, Bornstein JC, Chan WY, Cheah K, Gershon MD, Heuckeroth RO, Hofstra RM, Just L, Kapur RP, King SK, McCann C J, Nagy N, Ngan E, Obermayr F, Pachnis V, Pasricha PJ, Sham MH, Tam P, Vanden Berghe, P. "White paper on guidelines concerning enteric nervous system stem cell therapy for enteric neuropathies." Developmental Biology, 2016; 417(2):229-251.
Wang B, Chen YC, Jiang G, Ning Q, Ma L, Chan WY, Wu S, Zhou GQ, Bao R, Zheng ZC, Yang X, Luo JX, Zheng W, Guo HW, Zeng C, Zeng QY, Shu SY. "New learning and memory related pathways among the hippocampus, the amygdala and the ventromedial region of the striatum in rats." Journal of Chemical Neuroanatomy, 2016; 71:13-19.
Wang C, Kam RK, Shi W, Xia Y, Chen X, Cao Y, Sun J, Du Y, Lu G, Chen Z, Chan WY, Chan S O, Deng Y, Zhao H. "The proto-oncogene transcription factor Ets1 regulates neural crest development through histone deacetylase 1 to mediate output of bone morphogenetic protein signaling." The Journal of Biological Chemistry, 2015; 290(36):21925-21938.
Shu SY, Jiang G, Zeng QY, Wang B, Li H, Ma L, Steinbusch H, Song C, Chan WY, Chen XH, Wu YM, Bao R, Chen YC, Wu JY. "The marginal division of the striatum and hippocampus has different role and mechanism in learning and memory." Molecular Neurobiology, 2015; 51(2):827-839.
Chan WY, Wong JH, Ng TB. "Embryotoxic and abortifacient activities of ribosome-inactivating proteins." In F. Stirpe, & D. A. Lappi (Eds.), Ribosome-inactivating proteins: Ricin and related proteins, 2014; pp. 270-280. Iowa USA: John Wiley & Sons.
Wong CH, Nguyen L, Peh J, Luu LM, Sanchez JS, Richardson SL, Tuccinardi T, Tsoi H, Chan WY, Chan HY, Baranger AM, Hergenrother PJ, Zimmerman SC. "Targeting toxic RNAs that cause myotonic dystrophy type 1 (DM1) with a bisamidinium inhibitor." Journal of the American Chemical Society, 2014; 136(17), 6355-6361.
Kam RK, Shi W, Chan SO, Chen Y, Xu G, Lau CB, Fung KP, Chan WY, Zhao H. "Dhrs3 protein attenuates retinoic acid signaling and is required for early embryonic patterning." The Journal of Biological Chemistry, 2013; 288(44), 31477-31487.
Qu ZQ, Zhou Y, Zeng YS, Lin YK, Li Y, Zhong ZQ, Chan WY. "Protective effects of a rhodiola crenulata extract and salidroside on hippocampal neurogenesis against streptozotocin-induced neural injury in the rat." PLoS One, 2012; 7(1):e29641.
Wang X, Chan AK, Sham MH, Burns AJ, Chan WY. "Analysis of the sacral neural crest cell contribution to the hindgut enteric nervous system in the mouse embryo." Gastroenterology, 2011; 141(3), 992-1002.e1-6.
Chan KY, Xiang P, Zhou L, Li K, Ng PC, Wang CC, Zhang L, Deng HY, Pong NH, Zhao H, Chan WY, Sung RY. "Thrombopoietin protects against doxorubicin-induced cardiomyopathy, improves cardiac function, and reversely alters specific signalling networks." European Journal of Heart Failure, 2011; 13(4), 366-376.